Professional Tree Installations In Westchester County Create Picture Perfect Landscapes
Evergreen trees are a beautiful addition to any home or office. They offer year-long beauty and protection to your property. If you've been looking for a professional landscaping company to help you choose and install evergreen trees in your landscape, look no further. Landwork Contractors is the premier landscaping and hardscaping company for Westchester, Putnam, and Dutchess County. We have over 20 years of landscaping experience in landscaping, hardscaping, maintenance, installations, and design. Locally owned and operated, we understand what is needed for tree installations to survive and thrive.
Professional Landscapers You Can Trust in Westchester County, NY
The team at Landwork Contractors is dedicated to bringing our clients the very best in quality landscaping, including our special tree planting and installation services. Each member of our tree installation crew is:
Experienced: Besides being in business for the last 20 years, our staff has over 300 years of combined experience.
Continually Learning New Techniques: We stay up to date on top trends and new techniques through programs of continual education.
Fully Licensed: Our experts carry licenses in home improvement.
Fully Insured: Our company carries both general liability and workers' compensation to protect your home and our staff.
Westchester County EvergreenTree Installations
When working on your landscape design, it is important to include the right types of trees. Evergreens are a top choice for any design because they bring a wide variety of benefits for your home or office. Here's just a few.
Protect Your Home from the Elements: These trees are often stockier and hardier than other trees. Their size helps them protect your home from sunlight, wind, and even erosion.
Lower Utility Bills: Having trees planted near your home can actually lower your heating bills as much as 20%!
Lower Noise Pollution: With their full limbs and year-round foliage, evergreen trees are great at reducing noise.
Create Privacy for Your Property: Healthy, thick evergreens can create a natural screen around your property all year long.
Increased Property Value: Evergreens are great for framing your landscape design with foundational plantings. A beautiful landscape design catches the eye and increases the value of your home by more than 10 percent!
Designing Your Landscape with Evergreen Trees
Whether you are designing your landscape from scratch or simply adding some new touches, evergreen trees are incredible additions. The team at Landwork Contractors works with our clients to help them choose the perfect trees for their designs. We also use the very best in landscaping technology with CAD 3D design programs. This software lets you see your design in colorful 3D before we even begin to dig.
We work with you throughout any landscaping designs or installations to make sure you get the design you envisioned. Our team of landscape experts will carefully help you choose from a wide variety of evergreen options, including:
Boxwoods
Cypress
Junipers
Spruces
Pines
Firs
Conifer and evergreen trees come in all shapes and sizes. We know that choosing the right tree can be hard. We're here to help you find the perfect match for your vision.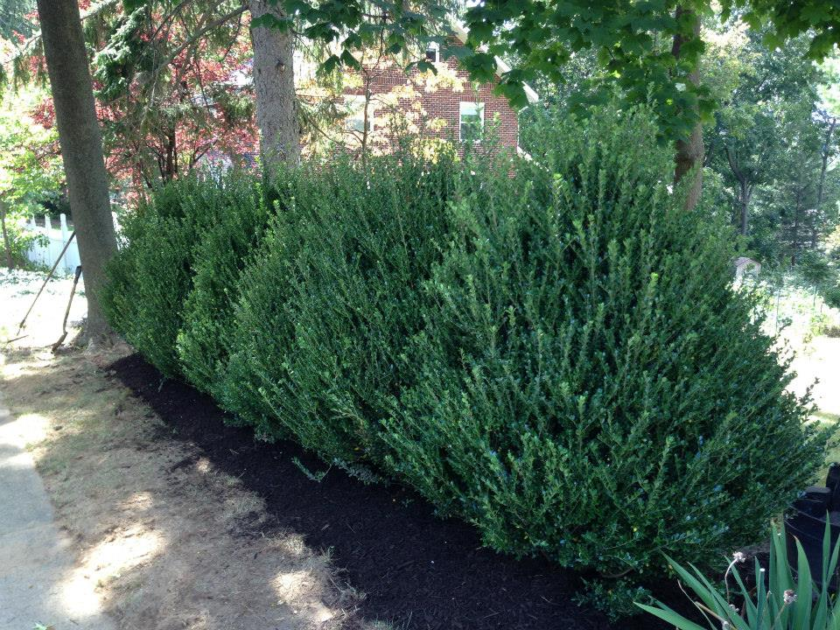 Perfect Placement, Beautiful Results
No matter what type of evergreen tree you choose, you'll want it to stay healthy and strong for years to come. The secret to getting long-lasting, beautiful results is understanding the land and the plants you choose. For many homeowners, choosing the right tree and the right placement is confusing. Landwork Contractors is here to help you every step of the way.
Here's how we'll make sure each tree is placed perfectly for beautiful results season after season.
We Check Your Microclimate and Hardiness Zone: Since our team lives and works right here in the Hudson River Valley, we understand which trees will work and which won't. We'll make sure the trees you choose are able to grow in our zone. 
We Scout for Irrigation Issues and Drainage Problems: Besides being trusted landscapers, we are also skilled irrigation and drainage experts. We will look at your land to see if there are any issues with your drainage or irrigation. 
We Understand Soil Ph Levels: Healthy trees depend on the right amount of Ph and nutrients in the soil. Our experts have a thorough understanding of the importance of soil health. We will carefully inspect your soil and make sure it is able to support new plants and trees. 
We Carefully Space Out Trees for Optimal Health: Trees must not be planted too close to your home, other trees, or other plants. Putting a tree too close to your home can make roots ruin sidewalks or damage your foundation.  Place them too close to other plants, and they'll compete for nutrients. Our experts will work with your design and the natural landscape to ensure beautiful results that will last. 
Landwork Contractors understand that your home is your castle. We know that your business brings you pride. Through careful planning, our skilled experts will bring the most beautiful evergreen tree additions to your home or office. Call us today at 914-479-2537 or make an appointment online. We are ready to bring everlasting beauty to your home with our evergreen tree installations. 
Our service areas
We provide services throughout Connecticut, Westchester, Putnam and Dutchess Counties: