Trusted Landscaping Contractor In Ridgefield
Experienced, Skilled, And Top Quality Landscaping, Lawncare, Hardscaping, And More!
Known for its timeless charm and incredible beauty, Ridgefield has remained a top place to live for generations. The team at Landwork Contractors is proud to provide high-quality, trusted landscaping services to our friends and neighbors in this gorgeous region. Nestled in the Berkshire Mountains, the homes and gardens of this historic town are an inspiration for homeowners across the nation. It has been our distinct pleasure to provide trusted landscaping services in the region for over 20 years.
We love working with our clients to craft unique, beautiful, flawless landscapes and hardscapes for the homes and businesses of this region. Our experts live right here, so they understand all the special challenges that come with the topography of this mountain zone. With the help of our skilled, professionals, you can tame the terrain. Our experts will help you add a personal touch to your home through landscape design, hardscape additions, and lawn maintenance. No job is too big or too small for our team.
Professional Landscape Design Services in Ridgefield, Connecticut
As part of the community, we are proud to offer landscape design services you can trust in Ridgefield. You can simply bring your dream to us and we'll make it come true. Throughout each step of the process, we work with you to customize a landscape design that works with nature and reflect your personal style. With the help of our 3D CAD technology, we can draft up a design that you can see before we start planting. This state of the art program lets us ensure your design is coming out exactly as you had imagined it.
Being locally owned and operated gives us the upper hand in planning your design. Since we live and work in the area, we know the special needs of the soil and issues that often occur in the region. We can work with you to solve those erosion issues with drainage services or foundational plantings. We can increase curb appeal with spring plantings or mulch beds. There's really no end to what our experts can do to help you come up with a beautiful design that you will love year after year. Here are just a few of the options we offer as part of our landscape design services:
Fresh Plantings
Drainage Solutions
Restorations
Garden Designs
Mulch Beds
Pathways and Walkways
Holiday Displays
Foundational Planting Additions
Fruit Tree Plantings
Ornamental Shrub Gardens
Hardscape Additions
Water Features
These are just some of the choices you have when you start designing your landscape. It doesn't matter if you are starting from scratch or refreshing your design, our team is here for you. We'll make a design you can enjoy every day. After we've helped you create your dream design, we'll help you keep it maintained and beautiful.
Lawn Maintenance in Ridgefield, CT
It takes a lot of time and effort to keep a lawn lush and healthy. From weeding to mowing to fertilizing, lawn care can become a full-time job. Who has the time for that? Plus, when you add in all the equipment and supplies, it is far more efficient and logical to hire a professional to care for your yard. Our team of lawn care experts will take care of the individual needs of your lawn or grounds. We work carefully to customize a lawn care and maintenance plan for you or your business. From postage stamp yards to large grounds we are ready to help. Routine maintenance is the best way to keep your lawn and landscaping in top shape. Not every yard is the same, so our experts offer a variety of options and services to give you top results every time. Here are a few of the services we provide with our lawn care and lawn maintenance teams.
Aeration and Overseeding
Regular Scheduled Mowing
Routine Trimming
Edging
Weeding Solutions
Maintain Formal Gardens
Seasonal Clean-Up Plans
Pruning
Weekly Maintenance Check-Ups
Sod and Lawn Installations
Our experts work with you to come up with a plan the requires very low maintenance on your part. We'll be there to resolve any issues and help keep your lawn lush, luxurious, and lovely all year long.
Hardscaping & Masonry Services in Ridgefield, CT
For over 300 years, Ridgefield has been a jewel in the Berkshires. The quaint roads and avenues showcase beautiful homes that have stood for centuries. With the help of hardscaping designs, you can reflect that history while still staying up to date. Features like fountains, patios, and retaining walls can be used to complement the countryside and add new spaces to your home.
A well-placed and designed hardscaping project can add value to your home. Most homebuyers are looking for hardscape features like outdoor entertainment spaces or fire-pits. Let our masons update your home and create your own private retreat for your family and friends.
The masons at Landwork Contractors have over 300 years of combined experience providing hardscaping and commercial masonry services in the region. Every member of our team is licensed and insured. We are also proud Unilock Authorized Contractors, offering dependable, stunning products and the latest techniques. Some of our hardscaping options include: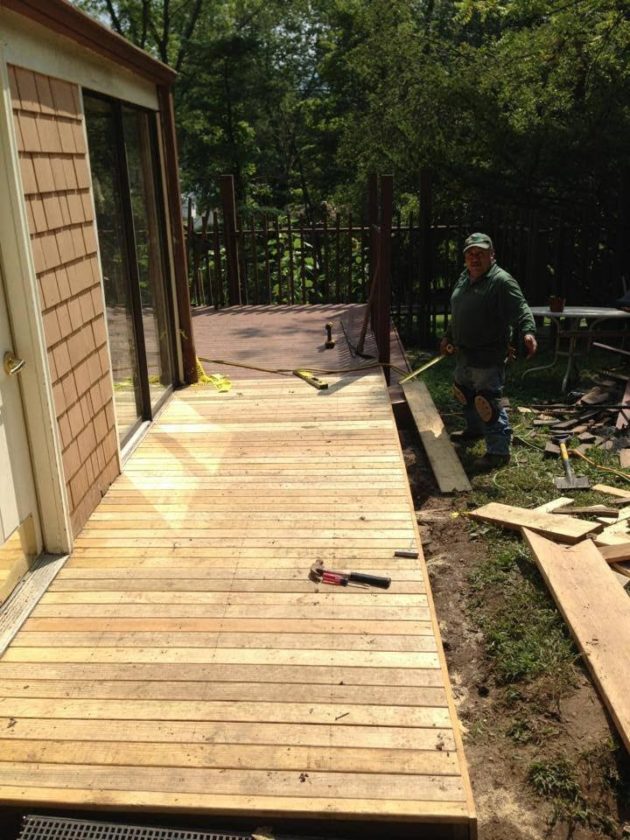 Retaining Walls
Outdoor Kitchens
Outdoor Fireplaces
Steps
Pool Patios
Outdoor Living Rooms
Fire Pits
Walkways
Water Features

With the help of our experts, you can make your home the retreat you've always wanted.
Get Landscaping and Hardscaping Services You Can Trust in Ridgefield, CTIf you are searching for a landscaping company you can rely on, look no further. Landwork Contractors will provide you with top of the line landscaping, lawn care, and hardscaping services. We're here to transform your home into a dream getaway. Call us today at 914-479-2537 or make an appointment online. We can't wait to help you make your dreams come true.