PROFESSIONAL MASONS CUSTOM CRAFT OUTDOOR ENTERTAINMENT SPACES TO FIT YOUR HOME IN WESTCHESTER AND PUTNAM COUNTIES

Have you gotten tired of doing the same old thing every night? Would you like to add value to your home? Or, are you simply ready for a new retreat? The team at Landwork Contractors is ready to help you create a brand new space with a carefully crafted entertainment space for your home.
As UNILOCK Authorized Contractors, we stay up to date with the latest outdoor design trends and use only the best materials. Our custom crafted outdoor spaces give you a backyard retreat that you can enjoy all year long, year after year.

Outdoor Entertainment Options to Fit Any Space
Do you have a small yard? Think your backyard is too narrow space or hilly for a bbq? Or do you have an irregularly shaped area that you don't know what to do with? Don't worry. Landwork Contractors can work with any space, big or small, narrow or irregular. We have been providing expert masonry installations in the Westchester area for over 18 years. Tell us your dream and we'll make it work.
Not sure where to start on your outdoor entertaining plans? Leave it to us. We have a team of highly skilled and experienced hardscape designers who can walk you through the process. We also use the best in 3D CAD technology to let you see your design before we lay the first brick or dig the first hole. Here are just a few options you could choose from for your home.

Outdoor Kitchens– Homeowners everywhere are discovering the charms of an outdoor kitchen. The options and additions for outdoor cooking are nearly endless. You can customize your design to fit your space, your lifestyle, and your personal tastes. Some of our favorite options include: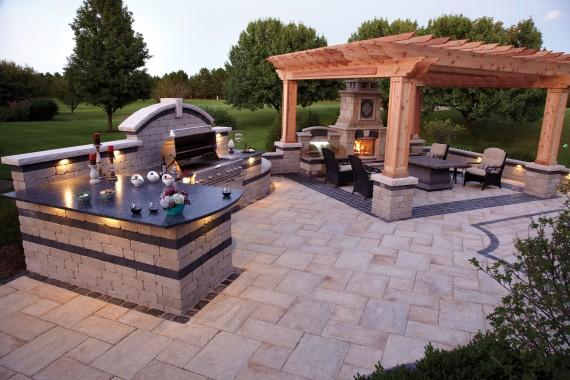 Brick Pizza Ovens
Sink and Prep Stations
Stoves
Grills
Refrigerators
Wine Refrigerator/Cooler
Sinks
Storage Areas
Bars
Dining Areas
Fire Pits & Fireplaces–Imagine coming home to your own fire-pit or outdoor fireplace to enjoy all year long. These outdoor additions can extend the use of your yard well into winter. Fire-pits and fireplaces come in so many different sizes and shapes, our expert masons can fit them just about anywhere.

Built- In Grills– Always a favorite, backyard grills are beautiful and add value and extra cooking space to your home. Our expert masons use top quality products to protect and increase the longevity of your grill.
Water Features– A beautiful water feature in your back yard can enhance your space or create a brand new spot to relax and meditate. Our team of hardscape designers can help you choose the perfect water feature to reflect your home.
Pool Patio– Your pool really isn't complete without a patio, so why not go ahead and design the patio of your dreams? You can transform your backyard into a summer getaway with a beautiful patio. Choose from the following options:
Slip Resistant Pavers
Fire Places
Fire Pits
Kitchen and Dining Areas
Grills
Wall Seating
Water Fountains or Water Falls
Licensed and Insured Professional Masons In Westchester County and Putnam County
Another great reason to choose Landwork Contractors is our high standards of safety and professionalism. Everyone on our team is licensed and insured to protect you from any risks. We work hard to turn your dreams into a reality without turning your life upside down. Our team of skilled craftsmen has the training and experience that sets them apart. You can trust us to be professional, timely, and keep your landscaping clean and tidy.
Benefits of Outdoor Entertainments Spaces in Westchester, NY
No matter what kind of yard you have, an outdoor entertainment space can provide you with a lot of benefits. Here are just a few:

Increase Home Values
Extend Outdoor Fun Through Colder Seasons
Expand the Size of Your Home
Provide the Perfect Space to Entertain All Different Types of Parties
Added Cooking Space
Provide a Retreat Right Outside Your Door
Save Money on Travel and Entertainment
Are you ready to transform your backyard? Looking to update your outdoor spaces? Give the team at Landwork Contractors a call at 914-479-2537. Our team of masons has over 300 years of combined experience that they will put to work for you. Don't have time to call? Make an appointment online. We're ready to give you the outdoor space you've been dreaming of.

Our service areas
We provide services throughout Connecticut, Westchester, Putnam and Dutchess Counties: